You create your own dynamic site.
We manage your setup, backups and security.
You have better things to do than manage your hosting.
Maintaining a website shouldn't mean spending hours optimizing your server and battling security threats. With Managed WordPress, we handle the technical stuff for you – server setup, security, backups, even performance optimization – so you can spend your time designing, managing content and doing what's important to you.
WordPress
The Power of WordPress

Built for tech-savvy designers and developers, WordPress lets you create gorgeous, content-rich websites with 1000s of free themes and plugins developed by the WordPress community. And as a content management system (CMS), you can assign authors, manage permissions, even make change across your entire site at once instead of a page at a time.
We made it simple
→Spin up a new site in less than 30 seconds.
→Haven't decided on your domain? Get started with a free temporary domain so you can choose the perfect URL later.

→Stay up to date and secure with automatic WordPress core updates.
Built for Speed, Reliability and Security
→One of the fastest WordPress hosting platforms in the industry.
→Optimized for WordPress with expert tweaks you won't find anywhere else.
→Designed to handle huge traffic spikes with automatic scalability.
→Guaranteed 99.9% uptime and support.
→
See how we deliver industry-leading performance.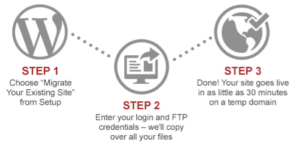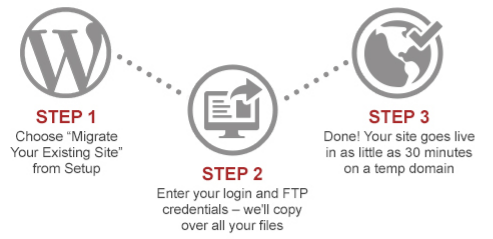 Migrate with just a Click


With our Managed WordPress, nearly 9 out of 10 migrations can be done using our simple one-click tool. And if you're a do-it-yourselfer who needs a little help, we also have detailed instructions you can follow.
Features
Key Features
Managed means easy
We do all this:
Automatic account setup
Automatic WordPress core updates
Nightly backups w/ 1-click restore
DDoS protection & site monitoring
Optimized WordPress servers
So you can simply do this:
Build your awe-inspiring website
Built for performance
Host your website on the platform built expressly to optimize WordPress, with high-performance coolness like load-balanced servers and SSD drives.
Award-winning support
We have award-winning, 24/7 support ready to solve your toughest hosting issues, plus hundreds of WordPress videos and interactive walkthroughs.
Keep hackers away
Your site gets the personal bodyguard treatment, 24/7. Our security team monitors, thwarts, and deflects so you can rest easy.
Additional Features
Get in with Google
Our WordPress search engine optimization (SEO) plugin walks through your site and automatically handles your site's SEO basics to get it seen by Google and other major search engines. No tech skills needed.
Stage before you show
Create a full-blown staging environment to test your changes every which way before you release them into the wild.
No domain? No problem.
Don't let your lack of a domain stop you from creating your website. Just start with one of our temporary domains and swap it out for the real thing later.
Secure your access
Log in to your WordPress server through SFTP/SSH and hit that command line. We even throw in wp-cli, vim & git—just because we can.
Migrate your existing site
With our nifty auto-migration feature, you can migrate your WordPress site to us with one click. (If you use a custom login page or host at WordPress.com, our 24/7, award-winning support can walk you through your migration.)
We have your resources
When your site attracts visitors by the ton, you shouldn't have to stress over your plan's visitor limits. Get visitor overage protection, ignore your limits, and pay a minimal fee for every additional 10K visitors over plan.
Performance & Security
We created our WordPress multi-tier hosting platform in-house and from the ground up to cater exclusively to WordPress sites. Every Managed WordPress site gets:
Load-balanced servers to handle visitor spikes
Multiple layers of caching for super efficiency
SSD drives to grab your site content wicked quick

We secure the perimeter
(Deluxe & Ultimate plans)
Standing Guard
Our 24/7, award-winning security team meticulously monitors your site so they can thwart suspicious activity and deflect DDoS attacks with extreme prejudice.
Keep on walking, bots
We give bots das boot when they blast your site with phony requests. Keeping bots away lets the legitimate traffic get in.
Spammers, beware!
Nothing mucks up the gears like comment spammers. We stop them before they ever reach your site so your comments stay clean.
Automatic updates
Having the latest version of WordPress's core software keeps your site happy and safe, so we automatically patch and update as soon as they're available.
Pre-screened plugins
We screen thousands upon thousands of WordPress plugins. Why? So you never have to worry whether you're installing a well-behaved plugin or one that eats the last slice of pizza and leaves the box.
Malware scan & removal
Hackers can inject malicious code—malware–into your site to steal info or deface your site. With Website Security (included with Ultimate plan), malware's found and destroyed before it harms you or your customers.
Tech Specs
Take a peek under the hood
If you're a developer, IT professional or just a self-taught web pro, here's your opportunity to dig into the details and see what makes our Managed WordPress incredibly fast, secure and easy to use.
Speed, scalability & reliability

Optimized WordPress platform
Built just for WordPress with personalized tweaks from our WordPress experts for maximum performance.
Dedicated load balanced servers
We distribute web requests across multiple servers so the same amount of work gets done faster and can handle spikes in traffic. And if there's a problem with one server, your site won't be affected.
Massively redundantly SSD-backed file and database servers
Your website, databases and applications load blazing fast with high performance disk servers. Get superior I/O rates and disk access times.
Multiple caching layers
Your website is enhanced with multiple caching layers for millisecond load times.
Nightly backups with a 30 day retention time and free restores
 
Protection from suspicious bots
We've added protection from suspicious bots that like to crawl your site and blast the backend with pointless requests.

Security

Redundant Web Application Firewalls
Enhanced perimeter protection, with fail-safe to keep traffic flowing should a firewall router fail.
Redundant DoS/DDoS Mitigation
Increased availability, and keeps traffic flowing during one of the most common attacks.
Intrusion Detection and Prevention
We monitor and mitigate the network and systems against malicious activity.
Blacklist for known malicious plugins
To help keep WordPress accounts secure as possible, we blacklist plugins known to cause security and performance issues.
Brute force login and comment spam prevention
Added security layers to prevent hackers from stealing login credentials, and flooding "comments" with spam.
Automatic WordPress Core Updates
Our automatic updates make sure you're always running the latest version of WordPress to reduce vulnerabilities, and stay safe from hackers.
sFTP/SSH
Securely access and manage files on remote file systems. Encrypt commands and data to prevent passwords and sensitive information from being transmitted unprotected over a network.

Simplicity

No set up. We do it for you.
You're ready to start building your site in 30 seconds or less.

Temporary web address

Build your site on the free domain included with our annual plan or start with a temporary domain and decide on the perfect URL later.
One-click migrations
Easily move your existing WordPress site with our 1-click migration tool.
FAQ
What is WordPress?
WordPress® is a blog- and Web-publishing platform that's not only easy to use, but recognized the world over as a standard in website creation. With its focus on aesthetics, Web standards and usability, WordPress is an open-source platform that lets you manage everything from a small personal blog to a large commercial site with hundreds of pages. Hundreds of thousands of sites trust their online presence to WordPress – and with Managed WordPress Hosting from WhiteHorseDomains.com, you can too.
What is Managed WordPress Hosting?
Built on our state-of-the-art Web hosting, Managed WordPress Hosting from WhiteHorseDomains.com is the perfect solution for anyone who wants the power and simplicity of WordPress without the hassle of constant updates and technical adjustments.
More than just a simple install, WordPress is seamlessly integrated to your hosting so the moment you log in, you're able to build, edit and manage your site. We've also modified our servers specifically for WordPress, giving you a level of speed and security you can't get from a standard Web hosting plan.
And of course, our award-winning support is available 24×7 to help with any questions you may have. In short, there's no easier way to build and manage a fast, secure, reliable WordPress website or blog.
How does your version of WordPress differ from other installations?
It doesn't. We start you out with the latest version of WordPress, the same one you'd download from WordPress.org. And anytime there's an update, we install it for you automatically. You never have to hassle with installing another update or worry about running an outdated or compromised version of WordPress.
Do I need to set up my database?
No. With Managed WordPress Hosting, we take care of everything so the process is as easy as possible for you. Once you've purchased your plan, you can immediately create your website or start blogging.
If I have a WordPress site hosted somewhere else, can I move it to WhiteHorseDomains.com?
Yes. You can migrate your site over to WhiteHorseDomains.com Managed WordPress in just one click. Either move it to your domain name or put it on a temporary domain, then just do a quick review and you're ready to publish.
After I purchase Managed WordPress Hosting, how do I get started?
Not sure how to create a blog or get started building your site using WordPress? Don't worry!
Your hosting plan is seamlessly connected to the latest version of WordPress, so all you need to do is log in and you can start building a site directly from your control panel. Not sure how to log in? Check "How can I access my WordPress control panel?" below.
And if you ever have questions, don't hesitate to contact our award-winning 24×7 support team. Our in-house WordPress experts can guide you through creating, updating or even promoting your website or blog.
How can I access my WordPress installation?
There are several ways to log in to your WordPress website or blog.
Go to 

https://www.secureserver.net?prog_id=whd

, log in to "My Account" and choose Managed WordPress Hosting from your list of products.
Type https://coolexample.com/wp-admin, where coolexample.com is your domain name, and that will take you directly to the Admin login screen.
1000s of themes and plugins

One-click migration tool

sFTP access to WordPress files

Nightly backups and one-click site restore

Redundant firewalls, malware scanning and DDoS protection

Daily backups & 1 click restore

Automatic WordPress Core Updates

Temporary website address

One-click SSL installation

Localized in 37 countries and 17 languages

Premium WordPress Hosting Platforms

Award-winning 24/7 support
Third-party logos and marks are registered trademarks of their respective owners. All rights reserved.